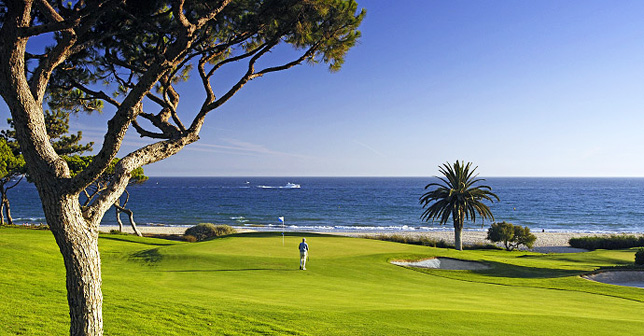 We played yesterday at Vale do Lobo Ocean course on a hot day, but a sea breeze made it very pleasant.
We were 18 players of various nationalities, Portuguese, English, French, Swedish, Scottish and Irish, it is worth mentioning these last two nationalities.
The golf course was in perfect condition, with some greens that were fast and smooth but soft at the reception of the ball, a pleasure to play.
The course is long and has miscellaneous holes, the front nine being played in the north and west part of the resort and the back nine next to the Atlantic, which provides breath taking views and allows for some shots with the murmur of the sea in your ear. It is worth paying attention to the spectacular views on holes 11, 14 and 15. Very good.
The winner this day was Ian Godfrey with 38 points, followed by Fraser Graham with 33pt, and in 3rd 2 players with 30pt Jim Gillis and Peter Collins. Nearest the pin, on 13th, a narrow green well protected by deep bunkers was won by David Ziai, who placed the ball 3 meters from the flag.
We all return to our usual Restaurant in Vilamoura for some drinks and our free nibbles generously offered by João Filipe. Another day well spent.
You can also read other posts about Golf in Portugal:
Inspiring Golf Ahead Of The OPEN
OPEN XIRA Golf & PRO-AM Starting Days
Amazing Golf Courses