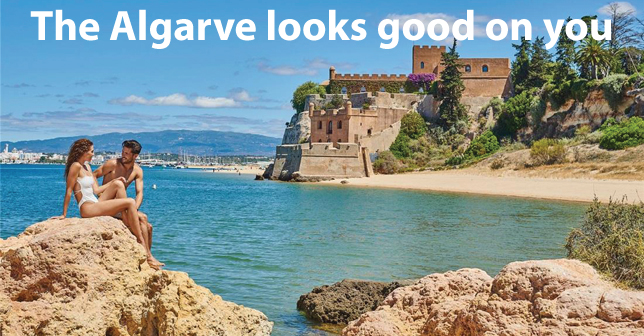 The Algarve looks good on you
The film of the promotional campaign «The Algarve looks good on you» won the Golden Star in the international category «Tourist Destinations – Regions» of «The Golden City Gate 2021», film and multimedia festival of tourism held within the scope of ITB Berlin, the largest tourism fair in the world, which this year takes place in a virtual format.
Produced by New Light Pictures for Turismo do Algarve, «The Algarve looks good» was chosen by the festival jury as the best in the world, surpassing the remaining films from regional destinations in Berlin, Germany – one of the most important tourist markets for the Algarve, with an annual record of approximately two million overnight stays in the region's hotels in the pre-pandemic period.
Created to motivate national and foreign tourists to enjoy the summer holidays in the region, reinforcing confidence in the «Algarve» brand and the notoriety of the main tourist destination in the country, the campaign features a motivational film starring one of the couples of Today's most successful international travel influencers, the @explorerssaurus_, who share unique experiences in exceptional places scattered throughout the region, such as waterfalls, picturesque villages, beaches with extensive sands and crystalline waters or more secluded and hidden among cliffs.
For the Turismo do Algarve's president, João Fernandes, the distinction has a special flavour, as it is the international recognition of the work done in the regional tourism promotion, and makes all continue to believe that everything that happened in the last year does not will prevent from coming back in force. Very soon it will be able to discover how well the Algarve is and enjoy the vast tourist offer of the destination. This award, within the scope of ITB Berlin, reinforces the message that the region is prepared to receive tourists from different origins in safety.
Previously, the film had been awarded at ART & TUR – International Tourism Film Festival 2020, which took place in Viseu, and at Finisterra – Arrábida Film Art & Tourism Festival 2020, in Sesimbra.
Tee Times Golf Agency congratulates those responsible for this wonderful success that makes all Algarvians extremely proud of the extraordinary region where we live and that we share with everyone who visits us.
Source: algarve7