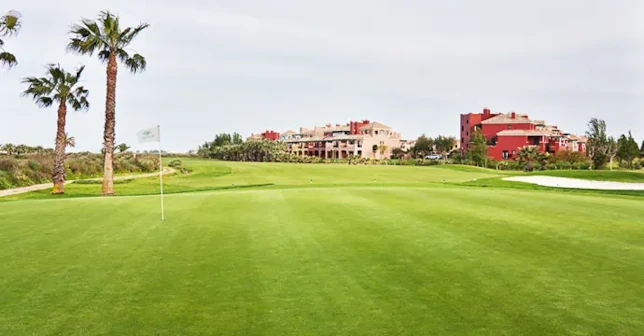 Isla Canela Old
wants energy independence
Isla Canela Golf's photovoltaic enclosure on the Isla Canela Old course has been recently installed and turned on. Located in the out rough area of the golf course, the installation has a total surface area of around 1500 square metres and has been used as part of a larger effort to reduce the irrigated area and make better use of water.
The Isla Canela Golf Hotel, the clubhouse, and the golf course's irrigation water pumping system will all be able to utilise electricity from the solar array, which includes a compensation mechanism for energy that is not self-consumed.
The owners of Isla Canela Golf are hoping to further advance energy transition initiatives and implement steps from its Strategic Plan for Social and Environmental Sustainability in accordance with the sustainable development goals set forth by the United Nations.
Isla Canela may now reduce its CO2 output thanks to this new installation. The owners have been calculating the company's carbon impact since 2019, and this action will help them get closer to their decarbonization target.
Isla Canela is located in a truly unique place on the Costa de la Luz region, near Huelva, right next to the border with Portugal, and it is one of the most popular golf holiday destinations in the region.
Book your golf holidays in Costa de la Luz with Tee Times Golf Agency and enjoy some of the best golf courses in Spain and in Europe.
You can also read other posts about Golf in Spain:
Solheim Cup 2023 joins the 'Costa del Sol Zero Footprint' project
Barceló Montecastillo Resort will host a new edition of the Aware Golf Strategy training course
The Circuit Interclubs Pairs Trophy of the Costa Blanca announces the calendar of its 3rd edition