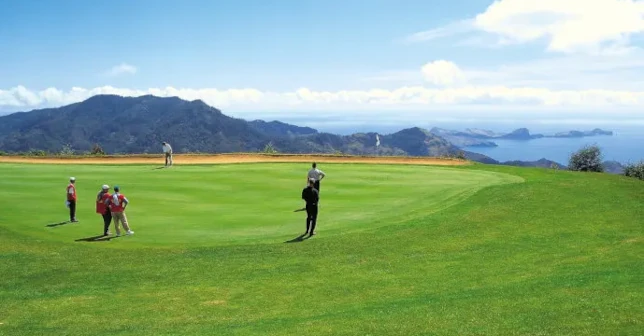 Santo da Serra
will host
the 8th
Madeira Golf Trophy
Clube de Golf Santo da Serra, who is hosting the eighth annual Madeira Golf Trophy on June 10th, has announced a new record number of registrations for the tournament.
The organization estimates "the presence of around 300 people", which, it adds, "will lead for the first time to the use of the 27 holes of the Santo da Serra golf course, simultaneously, to guarantee the dignified and high participation of all players, regional, national and international".
"There are many influential individuals from the political and commercial worlds who go to Madeira just for the tournament, and this has a positive effect on the island's profile", as noted by the same source.
"All of this is possible thanks to the commitment of the Regional Government, the personal commitment of the management of the Santo da Serra Golf Club and all of its staff, and Gilda Paredes Alves, a media person that has collaborated with the organisation since 2008", says the same source.
Santo da Serra board believes that 2023 will be a year with excellent prospects for growth, thanks to the excellent quality of the course, which continues to prove that golf is vital for the regional economy.
The golf club remembers that it was "the first in this idyllic destination to apply a totally eco-friendly system, by carrying out a series of upgrades on the course in order to make the golf experience even more memorable and distinctive for all its members and guests".
The Madeira Golf Trophy is modelled after the Funchal City Tournament, which was first organised in 2008 to celebrate Funchal's 500th anniversary, an initiative of Miguel Albuquerque, former Mayor of Funchal and current Regional President of Madeira.
Book your golf holidays in Madeira with Tee Times Golf Agency and play on some of the best golf courses in Portugal.
You can also read other posts about Golf in Portugal:
Ben Schmidt wins on the PT Tour
Golf generated record revenues in Portugal in 2022
Portuguese Vítor Lopes equals the world record for eagles in one golf round