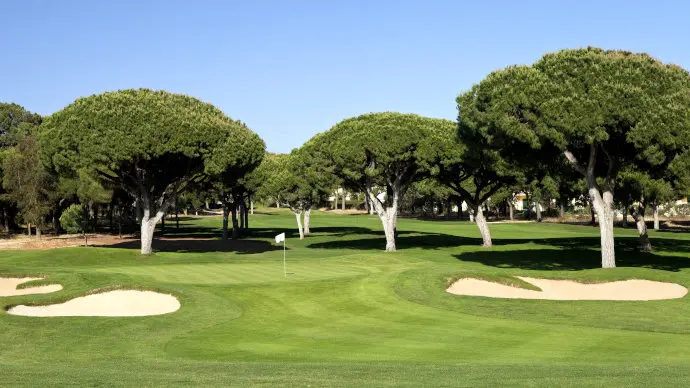 Dom Pedro Pinhal
is the
stage of the
charity tournament
The Hilton Vilamoura joins the Associação Mãozinhas Solidárias to support families in extreme situations and celebrate Earth Hour on March 25, by organizing a charity tournament.
For the first time ever, the resort is hosting a charity tournament at Dom Pedro Pinhal to bring attention to climate change and promote environmental consciousness. In this way, on March 25, from 20:00 to 21:00, all the lights in the resort will be off, thus marking Earth Hour.
The resort in Vilamoura will use Earth Hour – Golf Challenge to raise money for charity, the Associação Mãozinhas Solidárias, which provides food, clothes, and medicine to low-income families.
The charity tournament will start at 20:00, but it will only last for one hour due to special circumstances. The lights will go off in observance of Earth Hour, leaving the golf balls as the only visible objects. Each ball will be reflective and have a light source built into it to ensure player safety.
The profits from tournament registration will be given to the Associação Mãozinhas Solidárias as a solidarity gesture.
The Earth Hour – Golf Challenge is open to everyone. To do so, you need to get in touch with Nevada Bob's Golf Shop at the Hilton Vilamoura between the hours of 9:00 am and 5:30 pm, Monday through Friday.
"First, I want to emphasise the significance of supporting great charities like Associação Mãozinhas Solidárias, which helps families in dire conditions in the Algarve. Second, we have a goal of minimising our environmental impact. The tournament was created to increase environmental awareness and encourage more sustainable lifestyles", says general director Mário Custódio.
"Here, we strive to uphold the brand's core characteristics, which include solidarity and proximity", concludes Mário Custódio.
Book your golf holidays in Vilamoura with Tee Times Golf Agency and play on some of the best golf courses in Portugal.
You can also read other posts about Golf in Portugal:
Morgado and Álamos are collecting donations to charity
Tomás Bessa wins the Order of Merit of the PT Tour
8th Madeira Golf Trophy registers record number of entries