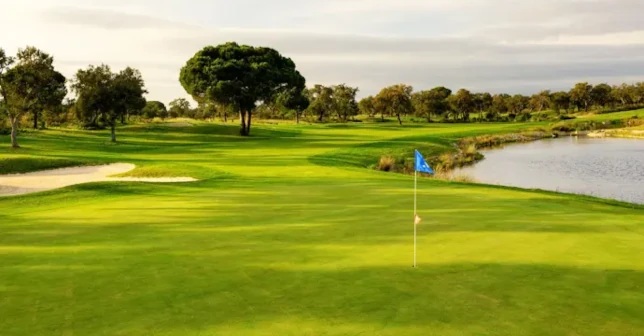 Ribagolfe Lakes
hosted the
tournament
Alexander Amey, Ana da Costa Rodrigues, and Pedro Figueiredo "Figgy" won the 2nd FPG Circuit Tournament of 2023 at Ribagolfe Lakes, in the Lisbon region, after a tense final day of competition.
The Male Amateur was the closest competition, requiring a playoff to determine a winner between Vasco Alves and Alexander Amey with an aggregate result of 147 strokes (+3).
The playoff was decided on the 18th hole, with Alexander Amey coming out on top after a birdie. The Medal Net prize went to Duarte Gonçalves, who ranked third with 148 strokes (+4).
Ana da Costa Rodrigues came in first place in the women's tournament with a result of 151 (+7), 6 strokes better than Luciana Reis and 8 strokes better than Constança Mendonça and Gisele Morna. Maria Francisca Salgado was awarded the Medal Net prize.
Pedro Figueiredo "Figgy" won the Professional tournament with a score of 70 strokes (-2), finishing with a total of 142 (-2), one stroke better than Vitor Londot Lopes, Tomás Silva, Ricardo Santos, and Pedro Almeida. Pedro Figueiredo was awarded 1,700 euros as prize money.
Tomás Bessa, who won the 1st FPG Circuit Tournament of this year, ended up in sixth place at Ribagolfe Lakes.
In the Seniors competitions, André Holtreman Roquette and Marta Lampreia won.
Quinta do Vale, in the Algarve, will play host to the next tournament that is part of the Portuguese Golf Federation Circuit 2023 in June. After that, competitions are scheduled to take place at the Oporto Golf Club (September) and the Aroeira Pines Classic (November).
Book your golf holidays in the Lisbon region with Tee Times Golf Agency and play on some of the best golf courses in Portugal.
You can also read other posts about Golf in Portugal:
Hilton Vilamoura's charity tournament
Morgado and Álamos are collecting donations to charity
Tomás Bessa wins the Order of Merit of the PT Tour