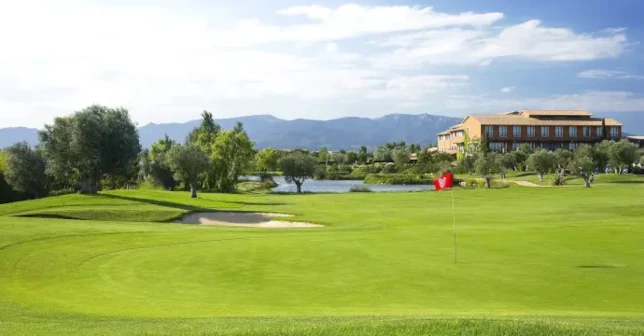 Santander Golf Tour 2023
starts at Peralada
The Santander Golf Tour circuit returns to the scene in its eighth edition with an exciting year ahead.
Beginning on March 1-3 at Peralada Golf with the Santander LETAS Girona, the first of two events this year co-sanctioned with the LET Access Series, the season will then continue on March 29-30 at the Real Club Golf San Sebastián.
Two further tournaments will be held in April, one at Lerma Golf on April 19 and 20, and the other at Lauro Golf in Málaga on April 28 and 29, both as part of the famous doubles championship.
There will be a break in the schedule until after the summer following the May 24–25 tournament at the Real Club de Golf de La Coruña.
The Santander Golf Tour LETAS Zaragoza, hosted at the golf course of Real Club de Golf La Peñaza from October 26-28, will be the finale of the LET Access Series season and the second tournament co-sanctioned with LETAS this year.
The remaining four events of the season will all take place in the month of November. They will begin on November 4th and 5th at El Bosque Golf. The next stop on the tour is at Real Golf de Pedreña for a match-play event on November 8-10. The Legends Pro-Am is scheduled for the 14th and 15th of November at Golf Santander in Madrid.
The last tournament of the year, the Santander Spanish Women's Professional Championship, will be held from November 29th to December 1st, in a yet-to-be-determined golf course.
"We appreciate the collaboration of all the sponsors and collaborators, as well as the media support that the circuit has. In addition, this year the winner of the 2023 ranking will obtain a place in the Andalucía Costa del Sol Open of Spain 2023 that will be played from November 23 to 26 at the Real Club de Golf Las Brisas", indicates Alicia Garrido, director of the circuit.
Book your golf holidays in Spain with Tee Times Golf Agency and enjoy some of the best golf courses in Europe.
You can also read other posts about Golf in Spain:
The practice area at Chaparral Golf Club now has a new tee line
Finca Cortesin won at Inspire Action Awards 2022 for promoting women's golf
Isla Canela Old Golf Course installed photovoltaic panels for self-consumption