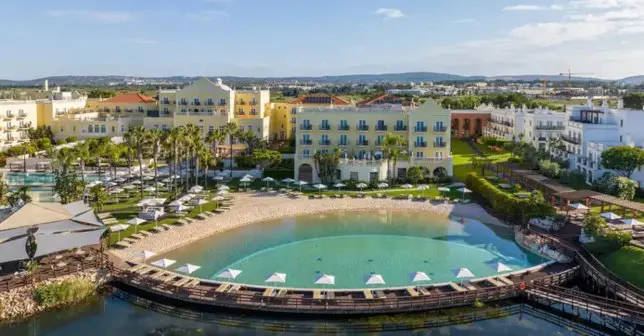 Domes Lake
Algarve has
a new upgrade
Located in Vilamoura, Domes Lake Algarve is already a reference in the Algarve. Before its reopening in 2022, it was known as Lake Spa Resort.
Since the hotel reopened, there have been a number of repair and modernization projects done to "improve the quality of its facilities and add more features and services to the resort".
There are Balinese beds, sun loungers, and chairs for adults in the new area, which can fit up to 40 people. A food truck called Taco do Lago is parked next to the pool and serves drinks, including cocktails, and snacks.
The new pool is near the lake and the outdoor gym, in the quietest part of the lodge. The large lake, surrounded by a walkway, is also the stage for fun kayaking trips. For the younger guests, there is also a new and lively kids club.
Families love Domes Lake Algarve because it has a lot of outdoor space and easy access to the beach, as well as 192 newly renovated rooms and suites with light colours and textures that were inspired by the resort's natural surroundings.
The wellness area has also been updated, and you can now use the different features of the Soma Spa, which combines treatments that use old Greek methods and modern healing techniques with high-end products that are made with natural ingredients that work.
We recommend our two golf packages made for you, available from 826 euros. Visit Domes Lake Algarve's page on our website and find out more.
Book your golf holidays in the Algarve with Tee Times Golf Agency and play on some of the best golf courses in Portugal.
You can also read other posts about Portugal Golf Holidays:
Comporta, ideal golf holiday destination
Azores break tourism records
The stunning city of Lagos