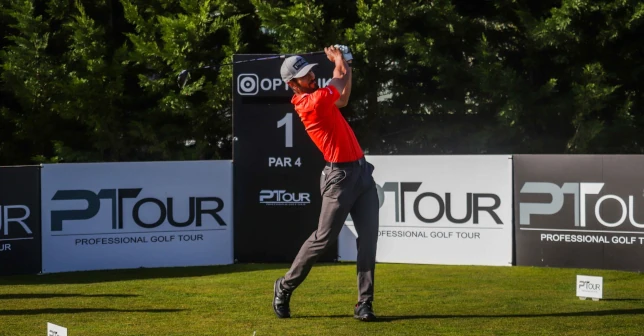 Tomás Bessa
won the
Order of Merit
of PT Tour
The last event of the PT Tour, won by Jamie Savage, saw Tomás Bessa winning the circuit's Order of Merit.
The PT Tour final tournament, Optilink Tour Championship, took place at Dom Pedro Laguna, in Vilamoura, and was won by the Scottish golfer Jamie Savage, in a play-off against Vítor Lopes and Tomás Bessa.
After the 3 rounds of the Optilink Tour Championship, these 3 players were tied for first place, with an aggregate of 206 strokes (-10).
Tomás Bessa was eliminated from the play-off in the first hole after he hit his ball into a palm tree. Savage and Lopes halved the hole and went back to the tee three more times before Savage finally triumphed with a birdie and won the prize of 3,500 euros.
"There was a time on the back nine when I was up by two strokes, but then I missed a short putt and started to lose my confidence. Gladly, I was able to manage my emotions in the play-off and win", revealed Jamie Savage, who underlined: "The weather was excellent and the event was extremely well organised".
"Losing the play-off left a sour taste in my mouth", said Vítor Lopes. The native of the Algarve was awarded 2,000 euros in prize money.
Tomás Bessa, who got the 1,500 euros allotted to third place in this event, remarked: "I am really glad to have won this Order of Merit. Overall, I won two tournaments and lost twice in the play-off".
"Everything went wrong in my final round; I missed easy putts, misjudged the wind, and failed to capitalise the four-stroke lead I had from the second round", he continued.
Book your golf holidays in the Algarve with Tee Times Golf Agency and play on some of the best golf courses in Europe.
You can also read other posts about Golf in Portugal:
8th Madeira Golf Trophy registers record number of entries
Ben Schmidt wins on the PT Tour
Golf generated record revenues in Portugal in 2022