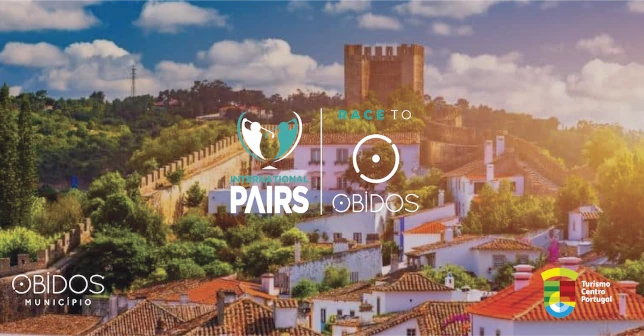 International Pairs
Golf Final
returns to
Portugal for the
4th time
in 7 years
The International Pairs Golf World Final 2023 will be held at Royal Óbidos and Bom Sucesso, in the Lisbon region, from 6 to 10 November.
Armandt Scholtz, managing director of International Pairs Golf, says that Portugal "has always been a great place for the event, with its beautiful golf courses, friendly people, and lively culture", and that "the International Pairs tournament has had the privilege of hosting previous finals in the Algarve from 2017-2019″.
For a number of reasons, Portugal stood out as an outstanding choice for the event's final. To begin, Portugal has become a well-known golf destination that draws golf fans worldwide. The country has a huge number of excellent golf courses with a wide range of landscapes and difficult layouts that appeal to both amateur and professional players.
According to Armandt Scholtz: "There are many economic, cultural, and publicity benefits for Portugal that come from hosting the International Pairs World Final: the event brings a lot of people to the area, which creates jobs, brings in more tax money, and helps the business grow in general. It makes the country more well-known in the world of golf and has a good effect on tourism, local businesses, and community involvement".
The managing director of the competition also says that the tournament brings business opportunities in the hospitality, food and beverage, retail, transport, tourism, sponsorship, advertising and event services sectors.
Scholtz affirms that golf is very important to tourism and could have a big effect on the industry. Over the holidays, golfers tend to stay longer so they have time to try out new courses while they move around the country.
Another interesting statistic is that golf generally attracts "high value" tourists who have a higher disposable income and are willing to spend a little more during their golf holiday. This plays an important role in the overall growth of the economy of a region.
Check out Tee Times Golf Agency in order to play on the best golf courses in Portugal with outstanding green fees and you'll find the best deals for your next golf holidays.
You can also read other posts about Golf in Portugal:
Marco Penge wins Open de Portugal 2023
Open de Portugal 2023 guide
2023 Absolute National Championship of Portugal