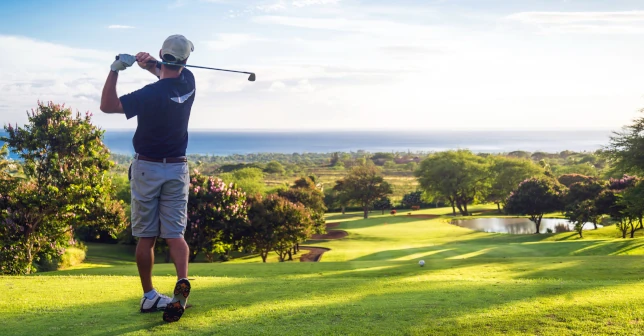 Why you
should choose
Spain for
your next
golf getaway
If you're set on visiting the best golf courses in Europe, then Spain is the destination you've been waiting for. With breathtaking landscapes, challenging courses, and a vibrant golfing culture, this country is a haven for golfing enthusiasts across the globe. Let's explore why your next golf getaway should be in Spain.
Sunny Skies, Perfect Greens: Golf in Spain
Climate plays an indispensable role in any golf getaway, and Spain checks this box beautifully. Notably, the Costa del Sol region, synonymous with golf in Spain, basks in over 300 sunlit days per year. A gentle sea breeze adds to this perfect blend, making it an unrivaled golfing destination to visit at any time of the year.
To guarantee you get the most out of your golfing trip, it's crucial to book your tee times in advance, as demand can be high.
Endless Options: Explore the Best Courses
Spain is home to more than 400 golf courses, ensuring every golfer finds their perfect match. Prepare to be blown away by the redesigned La Hacienda Alcaidesa Links Golf. If a sea view course is more your style, look no further than the Chaparral Golf Course. From the esteemed Valderrama Golf Club, known for hosting the Ryder Cup and LIV Golf tour, to the unique trials of the San Roque Club New Course, Spain's courses cater to every golfer's taste.
Embrace the Golfing Spirit: Immerse Yourself in Spanish Golf Culture
Spain's vibrant golfing culture is palpable. From the bustling golfing community in Malaga to the exclusive ambience of La Zagaleta New Course, you'll feel a warm welcome from local golf enthusiasts. In Spain, golf isn't just a sport; it's an integral part of life.
More than Golf: Experience the Rich Spanish Lifestyle
Spain offers more than just exceptional golf. From the pristine beaches of the Costa del Sol to the captivating history of Andalusia, your journey extends beyond the greens. After a fulfilling day at the beautiful Estepona Golf course, indulge in tantalizing local cuisine, explore a historic site, or simply bask on the sun-drenched beach.
Hassle-Free and Affordable: Spanish Golf Holidays
A golfing holiday in Spain offers value for money, with budget-friendly green fees that don't compromise on the experience. Plus, with regular flights from many international airports to golfing hotspots such as Marbella, you can be sure to find the best deals, so reaching your dream golfing destination has never been easier.
If the idea of basking under the Spanish sun, taking a swing at world-renowned golf courses, and immersing yourself in a culture that adores golf as much as you do excites you, then it's time to answer Spain's call.
Golf in Spain: Why Wait?
Are you ready to book your dream Spanish golf getaway? With www.teetimes.pt, you're just a few clicks away from the most picturesque golf courses in Spain. Whether you're captivated by the stunning coast of Costa del Sol, the vibrant golfing community of Marbella, or the diverse courses of Malaga, a perfect Spanish golf holiday awaits you.
So, why wait? Grab your clubs, polish up your Spanish, and book your trip now. An unforgettable Spanish golfing holiday is just a click away.