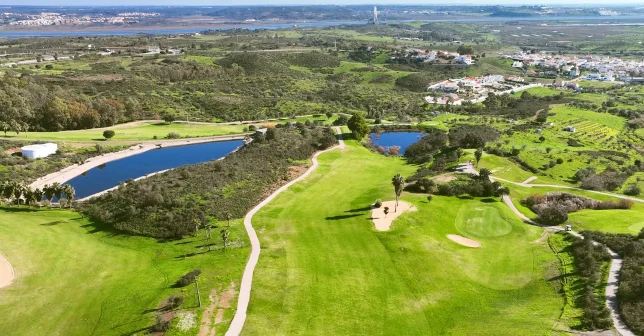 Castro Marim golf course
is making
an effort
to be more
sustainable
The Castro Marim Golfe & Country Club will start to use recycled water to irrigate its golf course. The project will make it possible to restore the surface water that is used every year with water from a WWTP that can be used again.
The contract between "Águas do Algarve" and Castro Marim Golfe & Country Club was signed on the morning of July 3rd.
For David Martins, managing director of Algarvelux, which manages Castro Marim Golfe, this project is a joy for the hotel unit.
"It's a promise to the future because we all know that there isn't enough water. Signing a contract that lets us use water from a different source than surface water or rainwater is a guarantee for the future", David Martins told reporters.
Of the average consumption, «half, in the worst case scenario», will be done with this recycled water.
With this investment, the price of water will go up, but the director of Castro Marim Golfe stressed that water is a scarce resource and it is better to pay a little more.
According to Águas do Algarve, about the production of water for reuse in the region, an investment of 23 million euros is foreseen until 2025. An increase is estimated from 1.4 to 8 million cubic meters/year, 71% of which will be used by golf courses.
Book your golf holidays in the Algarve with Tee Times Golf Agency and play on some of the best golf courses in Portugal.
You can also read other posts about Golf in Portugal:
Grand Young Talent Golf Tournament, by Wyndham Grand Algarve
2nd FPG Circuit Tournament 2023
Hilton Vilamoura's charity tournament