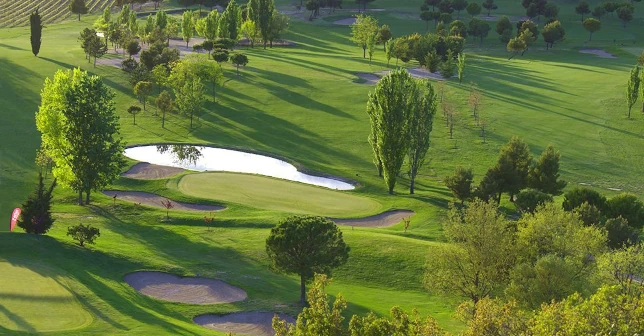 Raimat Golf
wants to build
a pitch-and-putt
course
Raimat Golf Club, one of Catalonia's iconic golf clubs, opened to the public in 1994. Now, club president José Ramón Gabás and Esport Recovery president Josep Maria Solanes want to take the club to a new level.
"When looking at things from a commercial and economic perspective, we are entering a new phase with a thriving economy and no outstanding debt. To achieve this goal, we will assign a competent professional to oversee each section of the club, and together we will conduct frequent checks to make sure our goals are being reached", states Josep Maria Solanes.
"The key aim is to enlarge the social mass and produce adequate economic resources to continue a first-rate path and secure the future", continues Solanes.
"Bank debt incurred by the club was too high to be absorbed. Nonetheless, the club's debt has been eliminated thanks to a deal between Esport Recovery and the bank that saw the latter make a contribution and acquire the debt at a concession. We welcome new members at this time", Solanes concluded.
Nevertheless, President Gabás said that a reduction in the price of water had been achieved, bringing the yearly cost down from €200,000 to €150,000.
A pitch-and-putt course, set to be built in the same sports area, will be the crown jewel of this next phase, requiring an expenditure of between €400,000 and €500,000. The goal is for it to be ready by the end of 2024.
"Because of its more manageable size, this style of golf course is ideal for novice golfers as well as those who just don't have the time to devote to the sport. It would be a terrific addition to the new project we're undertaking now, since it would give us a lot of momentum", said Gabás and Solanes.
Another of the goals set by the new managers of Raimat Golf Club is to make golf available to everyone and break the stigma that it is an 'elitist sport'. For this, the entity is going to promote initiation courses at affordable prices.
Book your golf holidays in Catalonia with Tee Times Golf Agency and play on some of the best golf courses in Europe.
You can also read other posts about Golf in Spain:
Solheim Cup staff will wear Andalusia-themed uniforms
Infinitum is hosting the 2023 Copa S. M. El Rey
Alcanada wins Diamond Award at Tagmarshal Awards