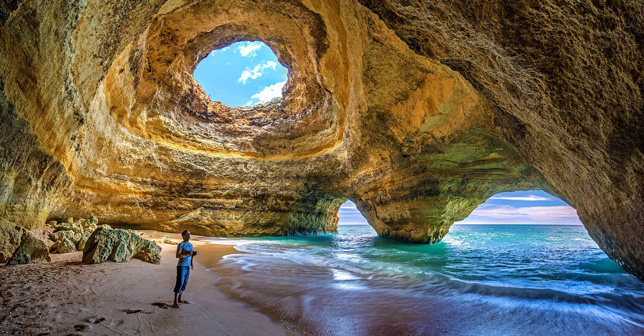 With the arrival of the summer high season, the Algarve region wishes to attract the largest number of tourists, offering 244 Zero pollution Beaches for a dream holiday.
The first reason is that this region was elected as the «Best World Beach Destination» at the World Travel Awards. Tavira, with four beaches, Faro and Vila do Bispo, with three, are among the municipalities with the most Zero Pollution Beaches in Portugal, a distinction awarded by the environmental association ZERO to beaches where no microbiological contamination was detected in the analyzes carried out on bathing waters over the last three bathing seasons. In all, this year the region offers 4 Zero Pollution Beaches.
The Algarve is also the national region with the highest annual increase in Beaches with Gold Quality, the award given by Quercus to distinguish the quality of bathing water on Portuguese beaches. In total, there are 93 beaches in the destination with Golden Quality, highlighting Albufeira, with 20 awarded beaches.
Albufeira is also the leading national municipality in Blue Flags, with a total of 26 awards hoisted on 25 beaches and in the local marina. This year, the European Blue Flag Association awarded 91 Blue Flags to the Algarve region, a symbol of environmental quality that will be flown on 87 beaches and four marinas in the region.
Last year, the Algarve also offered visitors 45 Accessible Beaches, marked with the white flag of the Accessible Beach Program – Beach for All!, marking the bathing areas accessible to people with reduced mobility.
To all these reasons, we add the excellent and friendly welcome and the fantastic gastronomy linked to the sea with various and always fresh seafood, which delights all visitors.
We at Tee Times Golf Agency would like to highlight another wonder to this list, as the Algarve is also considered the best golf destination. The perfect day will be to combine a round of golf with a dip in the warm & crystalline waters of our beaches. The Vilamoura golf courses, The Old Course, Victoria Golf Course, Pinhal Golf Course, Millennium Golf Course, Laguna Golf Course and Vila Sol Golf Course, as well as Vale do Lobo Ocean & Royal Golf Courses, Quinta do Lago Norte & Sul and Laranjal Golf Courses, Pinheiros Altos & San Lorenzo Golf Courses, all within a short distance of any beach and all offering super special summer packages, Early Bird or Sunset rates are the perfect ones for this magic combination.
The cherry on the top of the cake will be choosing one of the most charming and super well-located hotels in the region, such as the Tivoli Marina Vilamoura *****, The Lake Resort *****, Vila Galé Ampalius ****, Vila Galé Marina ****, Dom Pedro Vilamoura or Dom Pedro Marina ****, so that the Algarve becomes your favourite destination for all your summer holidays, short getaway or golf break.
Source: marketeer.sapo