Search Golf Courses

The perfect Christmas gift for a golf lover. Make a golfer's Christmas with a TeeTimes Golf gift voucher.


Das perfekte Weihnachtsgeschenk für einen Golfliebhaber. Machen Sie das Weihnachts eines Golfers mit einem TeeTimes Golf Geschenk Voucher.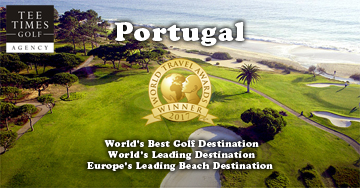 Vilamoura Golf Courses
Vilamoura Golf Resort offers the Holiday golfer six Championship golf courses: Old Course
Laguna Golf Course
Vitoria Golf course Pinhal Golf Course
Millennium Golf Course
Vila Sol Golf Course

The Vilamoura golf courses were the first to be environmentally certified by the ISO 14001 ,ensuring an environmental commitment and providing golfers on holiday with a more realistic contact with the flora and fauna of Vilamoura .

Vilamoura Golf Resort a success story ! Europe's largest, most comprehensive and diversified tourist development has become a unique place to live or to enjoy a Golf Holiday .

The dream began about 40 years ago and has not ceased to materialize. A singular destination in the international tourism scene, Vilamoura golf resort is the right answer for those looking for a special place. To the mild climate and the natural beauties, a sustainable development was allied. Vilamoura has grown but has preserved its environmental heritage. Infrastructures, landscaping, access roads, hotel units, housing complexes, sports and leisure facilities strictly comply with this harmonious development.

From the splendid Marina to the prestigious golf courses, to the rich and diverse shopping area, Vilamoura golf resort offers everything with a flair of class .
Around here, the days are a sequence of unforgettable moments. In a sailing boat, a game of golf, a walk on the seashore or adrenaline of a radical jump. The nights, full of life, are the perfect culmination of an intensely lived day. An esplanade overlooking the Marina invites to a toast to the best that life offers: Vilamoura , that's how it is.
Read More...
The Old Course, one of the gems in Portugal , it's the first golf course built in Vilamoura and second oldest golf course in the Algarve . Undeniably one of Portugal 's and Europe's finest golf courses since it opened in 1969, designed by Frank Pennink. In 1997 Hawtree & Sons upgrade and remodel the golf course to maintain that position, including a new sophisticated irrigation system. There was not much needed to perform, just a simple use of the natural contouring, terrain and vegetation. Every hole will be kept in memory after a round, such is the greatness of the Old Course.

Pinhal golf course was the second golf course built in Vilamoura , originally designed by Frank Pennink in 1976. In 1985, it was partly redesigned by Robert Trent Jones, making it even more challenging. Robert Trent Jones brought two completely different architectural concepts, British and American. As a result the player is confronted with different kinds of challenges . Drawn in the middle of fantastic pinewood with some sea views , forcing the golf players to be accurate from the tee . The small size of its greens is also one of the main characteristics of the Pinhal golf course, Several holes have recently been lengthened to keep up with modern technical advances in golf .

Laguna golf course was known as the 27-hole Vilamoura III. Designed in 1990 by Joseph Lee. Nine holes went over to create the Millennium golf course and so the Laguna now stands on its own as a pure 18-hole golf course.

The Laguna golf course is laid out over flat, low-lying ground and this well bunkered layout with a strong links-like feel is very different in style to the other Vilamoura golf courses. With plenty of lateral water hazards , this exposed golf course, can be tough when the wind is up, special on is back nine.

Millennium golf course, as its name says, opened in the year 2000. Front nine , some of the holes on this golf course extend through the old pine forest but the remaining holes are open from the tee allowing long drives . Main difficulties on Millennium Golf course are the rough and the strength of the wind . A very pleasant golf course been the must popular of all the Oceanico Group golf courses.

Victoria golf course opened for play in 2004, becaming the fifth golf course in Vilamoura , for Oceanico group . With tournament play in mind, Arnold Palmer designed the Victoria golf course with a big layout. Just one year after opening, the course hosted the WGC World Cup and since 2007 has hosted the Portugal Masters , a European Tour event .

All new golf courses take time to settle and Victoria golf course is no different, and we are sure Victoria will threaten most of the golf courses in is ranking table.

Vila Sol golf course, a 27-hole complex, designed by Donald Steel, opened in 1991. The two main 9-hole loops are now called Prime and Challenge. The Vila Sol golf course is much like the Vilamoura Old Course – the other true championship layout in this area – Steel created Vila Sol without the need for excessive contouring or the creation of unnatural hazards. The golf course fairways are framed by original umbrella pine, fig and cork trees, making the fairways seem even more narrower.From the very start, Vila Sol provides a perfect indication of the tests to come as the layout opens with three par fours, all in excess of 380 metres. The third hole is a well deserved S.I.1 and plays a dogleg left and then on again to a left-to-right sloping green protected by a steep bunker and trees at front andleft side of the green. A par here will be a very good score. Close

Vilamoura hosting Portugal Masters with a profusion of Word-Class Golf players
The Portugal Masters, a European Tour golf tournament is set to begin in Vilamoura from 21st to 24th of September, 2017. A large group of Europe's leading golfers has affirmed their interest in this great tournament which will happen in Victoria Golf Course.

Vilamoura is a resort in the Algarve region of southern Portugal . It's known for its large marina, top quality golf courses, is casino, and for many sandy beachs.

Padraig Harrington - three-time Major Champion will return to Vilamoura and Victoria Golf Course, to safeguard his title alongside Andy Sullivan who took the title in 2015. On the other hand, Shown Lowry is coming back to the scene of his first European Tour as a professional.

Danny Willett, 2016 Masters Tournament Champion, will be also in Vilamoura , onboarding additional Major-winning expertise to the Victoria Golf Course, Portugal Masters occasion. He is joined by two energizing youthful gifts, Matt Fitzpatrick and Thomas Pieters – both multiple European Tour winners who won the 2016 Ryder Cup as team mates.

In a statement, Harrington expressed his delight in returning to Vilamoura for the Portugal Masters to defend his title. Harrington's storied profession incorporates triumphs at The Open Championship in 2007 and 2008, the US PGA Title around the same time and six Ryder Cups appearances. The Irishman took the 2016 Portugal Masters on the Victoria Golf Course in noteworthy form, fixing his first European Visit title in eight years.

"Last year's win was exceptionally fulfilling, and I was satisfied to add the title to my rundown of competition triumphs. I felt relaxed all week and awesome around the greens. It's an occasion I'm particularly anticipating," said Harrington, who has triumphed 15 times on the European Tour.

Lowry burst on to the scene in 2009, when he won the Irish Open as a novice, and his triumph in Vilamoura at Victoria Golf Course three years after secured his place in history as just the second player to win European Tour titles as both an amateur and a professional. He secured the greatest win of his career in 2015 at the WGC-Bridgestone Invitational.

He further stated: "This will dependably be a unique occasion for me. I was over the moon to get my first professional win on such a lofty occasion, and I'm anticipating returning to Vilamoura this year."

Sullivan stated: "I have some remarkable recollections of this occasion in Algarve , especially from 2015. To win any trophy is phenomenal yet to take a title in Europe, before such a significant number of loved ones, was something exceptional. I can hardly wait for the comeback in September."

On the other hand, Sullivan is anticipating his 6th appearance in Victoria Golf Course at a competition where he has delighted in huge accomplishment as of late. The Englishman seized the title in 2015 - his third win of the season following the South African Open and the Joburg Open - before completing second behind a resurgent Harrington a year ago.

Willett also will be returning to Vilamoura for the Portugal Masters for the first time since 2014. He is the first English player since Sir Nick Faldo to won the Green Jacket when he triumphed at Augusta National last year.

The five-time European Tour victor has an incredible record in the competition, with three best ten completes in five appearances. "It's been a couple of years since I've teed it up in Vilamoura and I'm anticipating it. It is a place where I've played well over the years, and so I'm hoping for a good week," he stated.

In the interim, his comrade Fitzpatrick is making his Portugal Masters debut. The 22-year-old appreciated a stellar 2016 battle, adding more triumphs at the Nordea Masters and the season-ending DP World Tour Championship, Dubai to his maiden title at the 2015 British Masters. He additionally joined fellow Ryder Cup debutants Pieters, Sullivan, and Willet at Hazeltine a year ago.

Fitzpatrick further expressed his delight: "I'm eager to be playing at the Portugal Masters in Vilamoura for the first time. It's a competition that I've heard a lot about, and I'm anticipating an awesome week in Portugal ."

Pieters, a Belgian and a three-time European Tour winner, has been at the peak of his form this season, with three best ten completes on the European Tour - including fourth place at the Masters.

Pieters put a record at Hazeltine when he became the first European Ryder Cup rookie to scoop four points after playing every match.

"This will be the fourth year in succession for me in Vilamoura - Algarve , and it's a place that I appreciate returning to. I'm pleased to be teeing it up at Dom Pedro Victoria Golf Course once more," he stated.

Dom Pedro Golf offers five championship golf courses in the Algarve , Vilamoura 's renowned five – Victoria Golf Course (host of the World Cup in 2005 and Portugal Masters since 2007), The Old Course Golf Club, Pinhal Golf Course, Laguna Golf Course and Millennium Golf Course.

Tickets for the upcoming 2017 Portugal Masters, including hospitality bundles and packages, are accessible at europeantour.com/tickets.