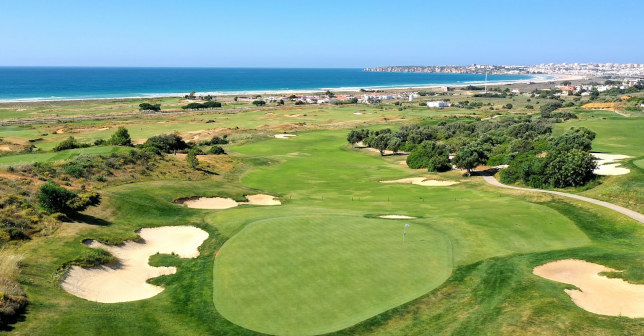 Vitor Lopes
equalled world
record at
Palmares
There are very few golfers who have ever recorded four eagles in a single round, and Vitor Lopes will go down in history as one of them, after a remarkable golf round at Palmares. Additionally, he had one eagle that was also a hole-in-one.
The 26-year-old Portuguese golfer from Vilamoura shot 61 (-11) on the outstanding Palmares golf course, in the Algarve, his best professional golf round. Vítor Lopes made eagles on holes 6 (Par-5), 11 (Par-5), 17 (Par-3), and 18 (Par-5).
As a result, he took over the Palmares Classic international tournament, with 10,000 euros in prize money, as part of the PT Tour, which brings together 74 players in Lagos.
Speaking to PT Tour organiser José Correia about his hole-in-one on the 17th hole, the Challenge Tour player stated, "It was my second hole-in-one, but in official tournaments, as a professional golfer, it was my first and I'm really thrilled".
Vítor Lopes, the seventh best Portuguese in the world golf ranking, showed once again that he is not intimidated by the wind.
The record for most eagles in a single round of golf is 4, according to Guinness World Records, however there are many different regional golfing circuits across the world. In comparison, 4 is the most you'll see on the PGA Tour, the DP World Tour, or the PGA Tour of Australasia.
Palmares golf course is a popular golf holiday destination in Portugal and ranked 38th in the top 100 best European golf courses in 2022.
Book your golf holidays in the Algarve with Tee Times Golf Agency and enjoy some of the finest golf courses in Europe.
You can also read other posts about Golf in Portugal:
Ángel Ayora wins the 93rd Portuguese International Amateur Golf Champiosnhip
Calendar of the World Corporate Golf Challenge Portugal 2023
30th edition of the Portuguese Senior Ladies Golf Competition