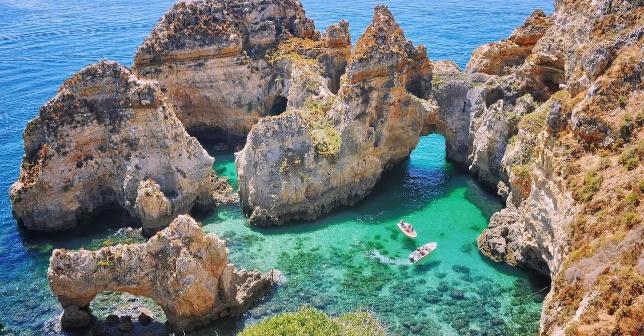 The main attraction
in Lagos
is Ponta
da Piedade
The beautiful city of Lagos is a popular tourist and relocation destination located in the western part of the Algarve.
Due to its beautiful golf courses, beaches, unique natural landscape (like the Ponta da Piedade), abundance of restaurants (especially seafood), and high-quality hotels, it is one of the most popular cities in the Algarve and Portugal.
It is one of Algarve's most visited and friendliest cities, although Portimão and Albufeira tend to attract more tourists.
Lagos stands out from the previously listed cities since it is favoured by younger people, giving the city a refreshing and easygoing environment.
It's also a historical city. Today, it's easy to experience the history of Lagos by just wandering around the old city walls, some going back to the 15th and 16th centuries. This port city played a significant part in world history, yet few people know that the 'Age of Discoveries' really began in the city.
Some of the most important tourist attractions in Lagos, besides the golf courses and the natural landscape, are the marina and the city center.
It's also important to mention that in 2012, Lagos topped TripAdvisor's list of the "15 destinations on the rise" throughout the entire world.
This magnificent city in the Western Algarve is perfect for any golf enthusiasts, with great golf courses like Espiche and Palmares, which is in the list of the top 100 golf courses in Europe.
Book your golf holidays in Lagos with Tee Times Golf Agency and play on some of the best golf courses in Portugal and in Europe.
You can also read other posts about Portugal Golf Holidays:
Meet the stunning Montebelo Viseu Congress Hotel
The outstanding history of Hotel Palácio Estoril
Madeira with occupancy of 88% in Easter