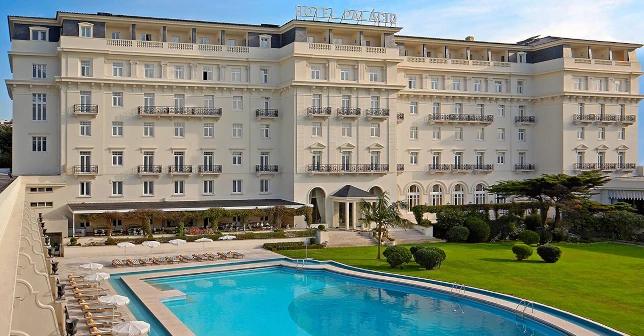 Palácio Estoril
has a very
rich past
The Hotel Palácio Estoril is a five-star hotel in the centre of Estoril, only 20 minutes from Lisbon's city centre, and features stunning gardens and breathtaking views of Estoril and Cascais Bay.
Since its opening in 1930, travellers from all over the globe have stayed at Hotel Palácio. It provides all the comforts of home in an atmosphere of timeless luxury, and its famous hospitality sets it apart.
The Hotel Palácio Estoril of today still has many features from the time it opened in the 1930s. The Hotel's opulent classic décor has been updated over time without deviating from its original framework of timelessness, luxury, and sophistication, creating an exclusive ambience that is felt by all who enter.
During the Second World War and due to Portugal's neutrality, some royal families fled to Estoril, known at the time as the "Kings Coast". British and German spies met in the Hotel Palácio, where numerous members of the European royalty stayed.
In 1969, "On Her Majesty's Service", a classic James Bond film, was set at the Hotel.
Palácio Estoril was the second home of the Spanish, Italian, French, Bulgarian, and Romanian royal houses, and their descendants still visit the hotel. In February 2011, the Royal Gallery was created at the hotel, displaying photos of European nobles who have visited the place.
Today, Palácio Estoril continues to be a reference and has received many awards, like the Condé Nast Award 2023 for the best place for meetings and conferences, and the 2023 Merit Award from the Portuguese journal Expresso.
Enjoy your stay and let the hotel's colourful and illustrious past inspire you.
Near the hotel, you'll find excellent golf courses, like Oitavos Dunes, Quinta da Marinha and Golf Estoril.
Book your golf holidays at Hotel Palácio Estoril with Tee Times Golf Agency and play on some of the best golf courses in Portugal.
You can also read other posts about Portugal Golf Holidays:
Madeira with occupancy of 88% in Easter
Porto Airport has new routes and more air connections
Easyjet reopens base in Faro until October