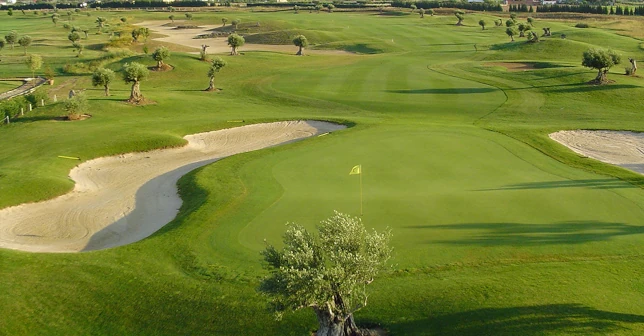 Palomarejos Golf
will be the
first Spanish
stage of the
Alps Tour 2023
The 22nd Alps Tour season will have three important tests being held in Spain: the Alps de Las Castillas, the Alps of Andalusia, and the Fred. Olsen Alps de La Gomera, where the 5 players who will be able to play the Challenge Tour next year will be determined.
"We believe that the Alps Tour is a circuit in which you learn to compete and much more, to prepare, to manage, to travel, and so on, and the careers of these great players bear that up", says Jaime Salaverri, president of the RFEG Professionals Committee.
The Alps de las Castillas, the first Spanish stop on the Alps Tour, will be held at Palomarejos Golf, in Talavera de la Reina.
"There have been excellent players who have gone on to succeed worldwide from the 11 years of partnership between the Castilla La Mancha and Castilla León Federations", states the host president, Carlos Gutiérrez.
The Alps Tour will then head to Isla Canela Links in May to celebrate the Alps of Andalusia.
"The Royal Andalusian Golf Federation (RFAG) maintains its support for the Alps Tour not only to see the emergence of the great golf stars, but also to attract young players to the golf courses of Andalusia, where there is much more to do than golf and they like it", said Pablo Mansilla, the president of the federation.
"After 12 years of backing the Alps Tour, the RFAG is happy with the outcomes", concluded Pablo Mansilla.
The Fred. Olsen Alps of La Gomera at Tecina Golf, in the Canary Islands, is the third and final Spanish event.
"Our journey has witnessed the beginning of great players worldwide and we continue to bet on professional golf. Whoever wins at Tecina Golf is going to have a great career ahead of them", says Cousins Pusnik, Fred. Olsen's asset manager and director of Tecina Golf.
On April 19–22, Palomarejos Golf will host the Alps de Las Castillas, while on June 14–17, Isla Canela Links will host the Alps de Andalusia. Finally, on July 12–15, Tecina Golf will host the Alps of La Gomera. All of them will have the support of the Royal Spanish Golf Federation.
Book your golf holidays in Spain with Tee Times Golf Agency and play on some of Europe's best golf courses.
You can also read other posts about Golf in Spain:
Spain's PGA has presented the Spain Golf Tour 2023
Raimat Golf Club aims to build a pitch-and-putt course
Solheim Cup staff will wear Andalusia-themed uniforms