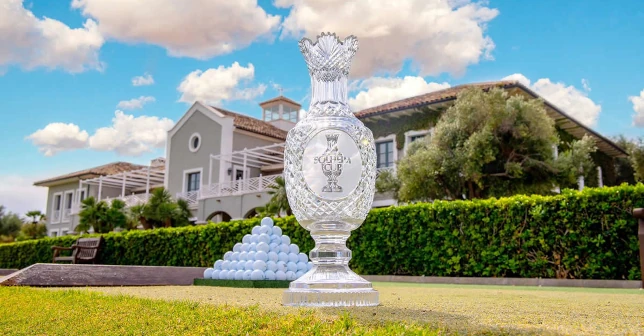 Solheim Cup
will celebrate
Andalusia with
special outfits
PING, Solheim Cup 2023 Founding Partner, will uniform staff and volunteers at Finca Cortesín, in Costa del Sol, from September 18 to 24.
To celebrate Andalusia, the region hosting this year's Solheim Cup, more than a thousand people will wear an unique outfit designed by PING just for that week. This shows that the organisation is not affiliated with either of the conventional team colours (blue and red), demonstrating its commitment to being neutral and inclusive of supporters of all stripes.
As a complement to this wardrobe, the more than a hundred Solheim Cup 2023 ambassadors will also wear their own PING uniform created specifically for the occasion.
PING garments stand out for their advanced technology, since they use the most modern, comfortable and sustainable materials of the moment and usually demanded by golfers.
"We are honoured to be selected as the tournament's official clothing supplier for both the staff and volunteers. Without the help of these individuals, who work diligently to make this tournament a success, it would not have been nearly as successful", said Lisa Lovatt, general manager of PING Europe.
"Without a doubt, the uniform is a fundamental element for both those who form part of the staff how the volunteers have that feeling of belonging to a team", said Alicia Garrido, president of Deporte & Business.
"The agreement achieved with PING is important and not just because of the quality of the garments or because of what this brand represents for the Solheim Cup", Garrido concluded.
Book your golf holidays in Costa del Sol with Tee Times Golf Agency and play on some of the best golf courses in Spain and in Europe.
You can also read other posts about Golf in Spain:
Infinitum is hosting the 2023 Copa S. M. El Rey
Alcanada wins Diamond Award at Tagmarshal Awards
The 2023 calendar for the Santander Golf Tour has been announced