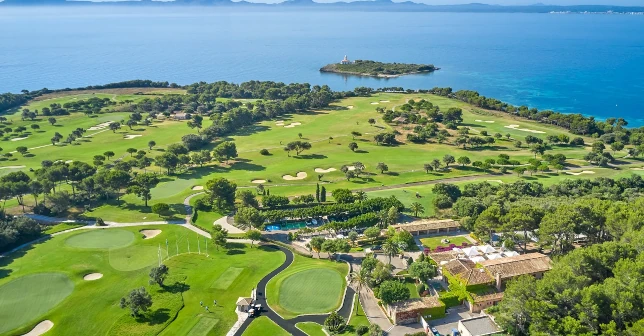 Alcanada wins
its third
Diamond Award
The Alcanada Golf Club, in Mallorca, part of the Balearic Islands, has been honoured for the third time with the Diamond Award at the Tagmarshal Awards.
The award, given to Alcanada at the PGA Show in Orlando, Florida, was a climax to a fantastic 2022 that included the golf course's hosting of the Rolex Challenge Tour Grand Final last November. The success in the tournament led to its scheduled return to Alcanada later this year.
"The club's primary focus is on enhancing the playing experience for its members at all times. Although we are well aware of the need of maintaining a steady pace of play for most players and the potential damage it may do if not handled properly, it has never been an issue here", explains Alcanada Golf Club Director Kristoff Both.
"With the help of the Tagmarshal system, we've been able to improve our approach and anticipate any issues on the golf course, so our players can focus on taking in the beautiful scenery and pleasant Mallorcan weather", added Kristoff Both.
The award recognises the club's outstanding efforts in areas like the pace of play, player experience, and course optimization, all of which have helped establish it as a top location for golf's most prestigious tournaments.
In fact, a round of 18 holes at Club de Golf Alcanada is 5 percent faster thanks to Tagmarshal's revolutionary optimization technology, a significant benefit for a sport that is increasingly challenged by game rhythm issues.
The Tagmarshal Awards were established in 2019 to honour the best of the 500+ golf courses that have partnered with the company. That year, Alcanada took home its first Diamond Award; in 2021 and 2022, it received two more.
By winning a third prize, Alcanada now ranks among the world's top 30 golf courses, joining such illustrious institutions as Pebble Beach, Ballybunion, Erin Hills, Pinehurst, and Portugal's West Cliffs.
Book your golf holidays in the Balearic Islands with Tee Times Golf Agency and play on some of the best Spanish golf courses.
You can also read other posts about Golf in Spain:
The 2023 calendar for the Santander Golf Tour has been announced
The practice area at Chaparral Golf Club now has a new tee line
Finca Cortesin won at Inspire Action Awards 2022 for promoting women's golf