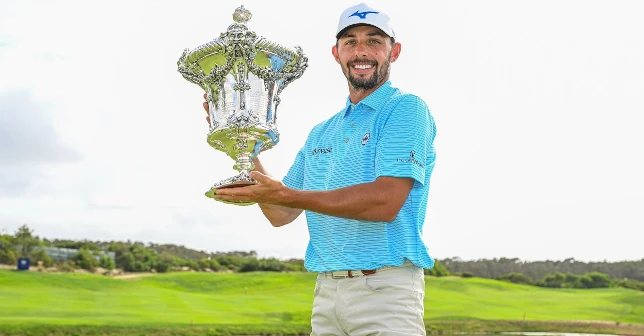 Open de Portugal
ended with
a victory
for Marco
Penge
The 25-year-old Marco Penge won the 61st Open de Portugal at Royal Óbidos, Lisbon region, completing an eventful year that included his marriage, qualifying for the British Open, winning his first Challenge Tour title, and moving to 19th in the Race to Mallorca.
He won the Portuguese Open with 272 strokes, 16 strokes under par at Royal Óbidos, after rounds of 65, 68, 69, and 70, where he ranked second in the first 3 rounds. He was the 17th Englishman to win the tournament, but the first since Matt Wallace in 2017.
Over 250,000 euros was up for grabs as a prize, and Penge won 40,000 euros. The two runners-up each got 22,500 euros.
With 287 (-1), Ricardo Santos and Tomás Bessa were the best Portuguese players in the event. They were both ranked 47th. They each got a thousand euros. Bessa scored 63, 76, 76, and 72, while Santos scored 73, 69, 70, and 75.
"This was my second victory as a professional, but the first was in the third division, in England. Winning on the Challenge Tour is obviously my greatest achievement. It's incredible. I don't even know what to say, I haven't even realized it yet", said Marco Penge. "I have jumped from 84th to 19th in the rankings in the last five weeks. In golf, we are only one week away from turning an average year into a good year".
Now, Penge is a rival to the Portuguese Ricardo Melo Gouveia, in the fight for the top 20 of the Race to Mallorca.
Book your golf holidays in the Lisbon region with Tee Times Golf Agency and play on some of the best Portuguese golf courses.
You can also read other posts about Golf in Portugal:
Open de Portugal 2023 guide
2023 Absolute National Championship of Portugal
Castro Marim golf course irrigated with recycled water