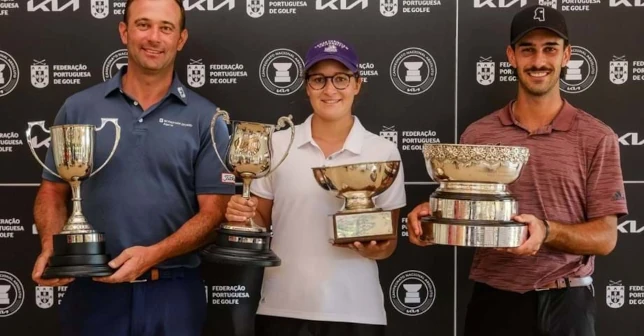 The Portuguese
Absolute National
Championship crowned
some of the
best Portuguese
golfers
Sofia Sá (+3) and Ricardo Santos (-12), on July 22, won 18,200 euros from the Portuguese Golf Federation (FPG) for winning the KIA Absolute National Championship at the Quinta do Peru Golf & Country Club in Sesimbra, near Lisbon.
Sara Melo (+33) and Tiago Mendes (+29) have both won their respective 2nd Category national championships, while Pedro Cruz Silva (-8) has won the amateur national title.
The KIA Absolute National Championship, established in 2020, brings together professionals and amateurs, female and male, simultaneously awarding the main national amateur and professional titles.
In 2020 there were still two National Championships, the FPG and the PGA Portugal, but in 2021 the FPG took over all the events and created a perfect symbiosis of two events that until then had existed separately: the Absolute National Championship (for amateurs) of the FPG, and the PGA National Championship of Portugal.
Sofia Sá is now a double absolute national champion. She is the only player to have done this since the event started including amateurs and professionals.
Ricardo Santos is a different story. For the first time since the event started bringing together professionals and amateurs, the player from Vilamoura won the title of absolute national champion.
As for Pedro Silva, he won his second title in a row as the amateur national winner.
Book your golf holidays in the Lisbon region with Tee Times Golf Agency and play on some of the best golf courses in Portugal.
You can also read other posts about Golf in Portugal:
Castro Marim golf course irrigated with recycled water
Grand Young Talent Golf Tournament, by Wyndham Grand Algarve
2nd FPG Circuit Tournament 2023