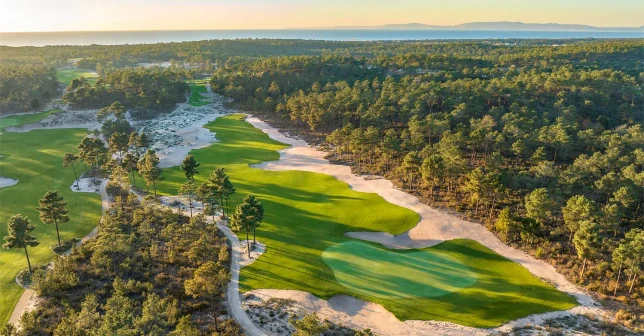 Comporta
is rapidly
growing to be
a golfer's
paradise
Comporta, in the Lisbon region, is much more than just a simple beach. For Terras da Comporta, it's important to promote the destination and to improve the quality of what's on offer by investing in sports, health, education, culture, retail, catering, nautical and services, not to mention electric transportation.
Terras da Comporta, Portugal's newest golf resort, will offer golfers a high-end experience on the course that meets the quality of its new Dunas golf course, thanks to two new partnerships with other companies in the industry.
The Portuguese golf course has partnered with global telecommunications giant Samsung and top golf software developers Hole19 to create a game-changing concept for customer support on the course.
Dunas Terras da Comporta golf course was built with the greatest care for the environment, and the result is 84 hectares of natural, sandy terrain that is sure to be compared to some of the most famous golfing spots in the world. This golf course was built by David McLay-Lidd and opened this year.
It's a perfect destination for relaxing golf holidays and you will have a memorable time in this cosy and quiet town.
Book your golf holidays in the Lisbon region with Tee Times Golf Agency and play some of the best golf courses in Portugal.
You can also read other posts about Portugal Golf Holidays:
Azores break tourism records
The stunning city of Lagos
Meet the stunning Montebelo Viseu Congress Hotel