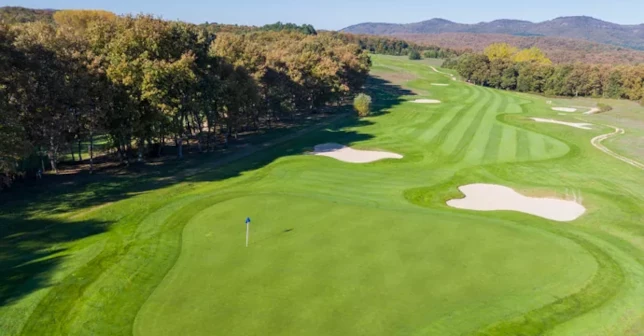 Izki Golf
hosts the
XIX Spanish PGA
Doubles Championship
The PGA Spain Golf Tour 2023 returns to the scene, in Izki Golf, almost without time to celebrate Jon Rahm's victory in the Augusta Masters, the 6th "Green Jacket" for Spain.
Adrian Otaegui, Gonzalo Fernández-Castaño, José Manuel Carriles and Natalia Escuriola are some of the stars that will be in the golf tournament.
To mark the occasion, the XIX PGA Doubles Championship of Spain has been reinstated. This tournament is beloved by pros and is unlike any other on the Spanish national calendar.
The Izki Golf course, in the North of Spain, is ideal for golf tournaments since it was constructed by Seve Ballesteros and is open to the public, fulfilling one of his lifelong goals.
"We have a plaque placed at the entrance to the golf course since his death, but he will be safe in our thoughts", said Jon Ander Sánchez, director of Izki Golf.
When the Provincial Council and Izki Golf met with PGA of Spain President Ander Martinez last November, the idea of reviving this competition in pairs quickly gained traction.
"We wanted to do something different and special and to recover this tournament was the perfect combination", explained Jon Ander.
"Izki Golf is much more than a regular golf course. There's a lot more in it for residents and tourists alike. It is promotion, closeness, accessible and public. And that is why we carry out actions in schools in the area, collaborations with associations and companies, and whatever arises in order to bring golf closer to the population that unfortunately is unaware of it", added Jon Ander.
The XIX Spanish PGA Doubles Championship will be held between April 12 and 13 at Izki Golf.
Book your golf holidays in the North of Spain with Tee Times Golf Agency and play on some of the best golf courses in Spain.
You can also read other posts about Golf in Spain:
Sotogrande officially declared as the best golf destination in Spain
Golfer Ana Peláez is the new ambassador of Finca Cortesin
The Alps Tour 2023 will come to Spain