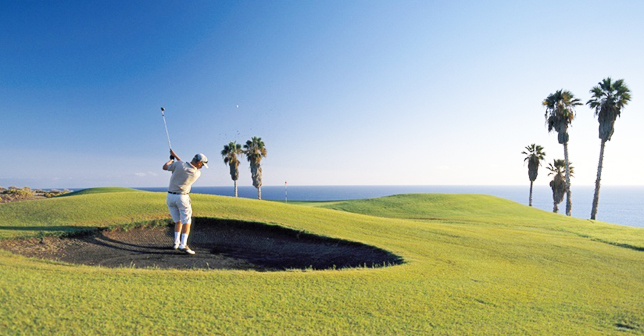 The European Golf Tour is proud to announce their 2021 calendar, travelling across continents and around the world with a minimum of forty-two tournaments in twenty-four countries. From January to November, the calendar also features eighteen returning tournaments that were postponed or cancelled in 2020 due to the COVID-19 pandemic.
The 2021 calendar features four tournaments in Spain, four events in which they will host the best professional golf players on the continent. An Estrella Damm NA Andalucía Masters that changes its date, a Spanish Open that is back on the calendar and two new tournaments in the Canary Islands will be the protagonists of four weeks of high-level of golf between April and October. In both months the tournaments will be played in consecutive weeks as the European Golf Tour is committed to reducing travel whenever possible.
Tenerife Open | April 15 – 18 | Golf Costa Adeje | Tenerife
Gran Canaria Open | April 22 – 25 | Golf course to be determined | Gran Canaria
Spain Open | 07 – 10 October | Villa de Madrid Country Club | Madrid
Estrella Damm N.A. Andalusia Masters | October 14 – 17 | Real Club Valderrama | Cadiz
Real Club Valderrama Golf course, after several months of conversations with the European Golf Tour, decided to host the Estrella Damm N.A. Andalucía Masters in mid-October. At this time the golf course is always in excellent condition and once the American circuit is concluded ensures a great selection of players.
They were looking forward to the Spanish Open return to the calendar after the wise decision to suspend it in 2020 and fortunately it is already a reality. Both the Royal Spanish Golf Federation, Madrid Trophy Promotion and the Villa de Madrid Country Club are committed and excited about this new edition of the tournament. They have been preparing the CCVM Black course for several years with the Spanish Open as the goal and in this year's edition, it will be presented in better agronomic conditions than in previous years.
Last summer an opportunity arose to consider holding circuit tournaments on the islands as the European Golf Tour was looking for good level venues in tourist destinations. For Gran Canaria and being part of the Tour, they could not miss the opportunity to propose Gran Canaria and Tenerife since they have all the characteristics to host top-of-the-line tournaments. Turespaña Masters was held in the nineties at Maspalomas Golf course.
Costa Adeje Golf course received this news with great enthusiasm, it is a great way to end the year after a complex one due to the pandemic.
Tee Times Golf Agency is happy to promote the excellent golf courses and hotels, suggesting the best in each area where the tournaments will take place, as well as the best golf holidays throughout the year.
Source: golfindustria.es