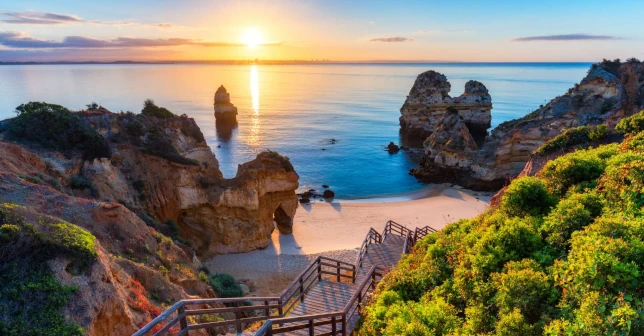 Portugal's tourism sector
confirms the recovery in 2022
Last year, Portugal was close to matching the records broken in 2019 in the tourism sector. The National Statistics Institute (INE) released preliminary data on tourism activities, showing that hotels and other tourist-related businesses served 26.5 million guests and registered 69.5 million overnight stays in total throughout the year.
The number of visitors was down 2.3% and the number of overnight stays was down 0.9% compared to 2019 before the pandemic. The increases were 83.3% and 86.3%, respectively, compared to 2021, a year still feeling the effects of covid-19.
According to INE, domestic overnight visits increased in 2022 in all regions compared to 2019. The highest growth in non-local overnight stays was seen in the North (+4.3%), followed by the Azores (+5.1%), and Madeira (+4.5%).
Overall, compared to 2019, domestic overnight stays climbed by 8.6%, while international overnight stays dropped by 5%.
In 2022, the United Kingdom was the top outbound market, accounting for 19.3% of all overnight stays by non-locals. This was over three times the value from 2021 but 4% less than 2019. Germany (11.5%), Spain (10.8%), and France (9.3%) are the next largest markets. The USA accounted for 7.5% in 2022, up 327.4% from the previous year and 26.9% from 2019. Other markets that saw significant increases were Brazil and Ireland.
Portugal is a stunning golf holiday destination with much to offer. The most popular golf holiday destinations in the country are the Algarve and Lisbon region, but you'll find excellent golf courses in all the Portuguese regions, because Portugal has some of the best golf courses in Europe.
Stunning golf courses, nice weather, beautiful natural landscapes and outstanding culture make Portugal a true paradise for golfers.
Book your next golf holiday in Portugal will Tee Times Golf Agency and get ready to have the best golf holiday experience of your life.
You can also read other posts about Portugal Golf Holidays:
Events in the Algarve during the month of February
UNWTO expects 2022 to recover 65% of pre-pandemic tourist volume
2,9 million tourists visited Portugal in September