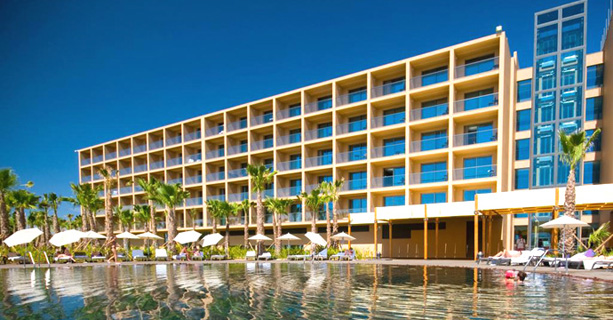 Portuguese tourists are increasingly looking for hotels with the "all-inclusive" system, a way to control expenses, especially when on family vacations or golf breaks.
This modality, widely used in Caribbean Resorts, entitles the client, through an identification bracelet, to accommodation, food and drink throughout the day without having to pay more.
In this moment of crisis, when families with children have to manage very well their budget and want to spend the same vacation days and pay less, the all-inclusive assures them that they will not spend more than the intended amount.
The system is already being used in several hotels in the Algarve, such as Vila Galé Náutico, in Armação de Pera, which last year became a hotel exclusively dedicated to the "all-inclusive" regime.
It is a growing modality in hotels in the Algarve, now becoming a highly demanded segment.
Despite being advantageous for hotels, which guarantee better occupancy rates, this system does not attract some businessmen, who do not believe in its success, as the Algarve is a safe region, has a rich cuisine and good accessibility that facilitate quick access and comfortable displacement of visitors.
In the Algarve, connecting the golf courses to the All-Inclusive offers, we have the group Nau Hotels owners of 3 golf courses, Salgados in Albufeira, Alamos and Morgado in Portimão and therefore they manage to combine their accommodation and golf offer very well with the all-inclusive, in some hotels of the group such as Nau Salgados Palace; Nau Salgados Palm Village and Nau Hotels São Rafael Suites, all in Albufeira.
Also, the Pestana group, which has 5 golf courses, offers an All-Inclusive at the Hotel Pestana Blue Alvor Beach, as well as The Robinson Club Quinta da Ria that combines an excellent All Inclusive with the two golf courses Quinta da Ria and Quinta de Cima, in Tavira.
For golfers in particular the traditional AIl-Inclusive is often not entirely compensatory as they spend many hours out of the hotel, although in many cases such as the Robinson Hotel, guests are encouraged to create their food pack to take with them to the golf course. In this particular hotel, they offer a late dinner, available to clients present at the bar, especially on live music nights.
There is still another modality, practised by some hotels, which is the semi All-Inclusive for drinks after a certain hour of the day, that also became very popular in Algarve.
You can also read other posts about Portugal Golf Holidays:
Inspiring Golf Ahead Of The OPEN
Sweet Deals
Unforgettable Madeira