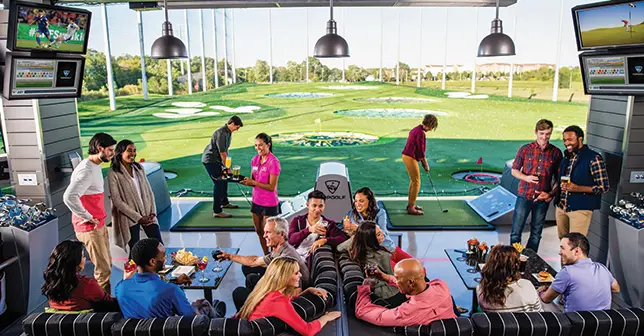 TopGolf is

Changing Golf
TopGolf, the American entertainment company, will operate in Spain and Portugal. The project aims to develop up to eight locations, invest 250€ million, and create 3,800 jobs. After nearly two years of negotiations, the company has concluded a deal with BAJ Golf Development Iberia. Managed by Pablo Juantegui, former president of Telepizza, BAJ Golf Development Iberia will assume the master franchise and brand development in Spain and Portugal.
TopGolf has connected more than one hundred million fans through its sports entertainment experience in more than ninety venues around the world. Offering visitors, a different way to enjoy golf thanks to technology. These entertainment spaces around golf, with an average of 60,000 square metres, are based all around the world. In addition to the United States, there are already centres in Mexico, the United Kingdom, Germany, Australia, Mexico, the United Arab Emirates, China and Thailand.
The TopGolf entertainment centre division was founded in the late 1990s by brothers Steve and Dave Jolliffeay. Callaway Golf announced its acquisition in 2020. The merger was completed a few months later in March 2021.
TopGolf Callaway, the publicly traded parent company, achieved revenues of $3.996 billion and net income of $158 million last year.
In recent years, the company has carried out an ambitious international expansion plan. In Spain and Portugal, the facilities will have one hundred and two air-conditioned outdoor playing stations equipped with Toptracer. Three restaurants will offer top-quality service and products, while the visitor enjoys a time of leisure and music.
In addition, these venues will have spaces for private events and family programmes throughout the year. Thanks to this spectacular offer, Topgolf has become a perfect venue for those looking for leisure and entertainment activities, as well as corporate and social events.
TopGolf makes golf more accessible and fun. It could help increase the number of players in the regions where there are centres and also help break down the stigma that exists about golf being a sport for rich old people.
In Spain, there are already over 20 TopTracer ranges distributed around Madrid , the Costa Del Sol, the Balearic Islands , and the Costa Dorada. While in Portugal only in Lisbon can you come across a driving range equipped with a toptracer.
Book your Golf Holidays in Spain with Tee Times Golf Agency and enjoy Spain's best golf courses
You can also read other posts about Golf in Portugal:
Golf Developments in Spain
European Triumph in the Eternal City
Open de Portugal 2023 guide