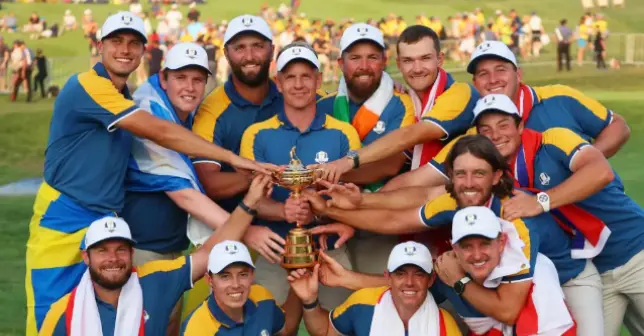 European Redemption
at Marco Simone's
2023 Ryder Cup
The 2023 Ryder Cup played in Rome proved to be one of the most emblematic ever. Winning a Ryder Cup is a difficult endeavor that needs a lot of hard work, statistics and analytics, difficult decisions, emotional management. On top of it all, the players must perform, and it is up to the captains to provide the platform for the players to do so.
The opening ceremony provided a preview of what was to come. When both captains talked, it was evident that Luke Donald did his work with utmost precision and passion, spoke with great confidence. Which some could say lacked to Zach Johnson.
To win any sporting event, preparation and planning are essential. While Luke Donald's men competed in the weeks preceding up to the Ryder Cup and the Italian Open at Marco Simone in previous years, the majority of Zach Johnson's men had four weeks off and a couple even skipped the team's preparatory trip to Marco Simone.
With redemption on their minds the European blasted through the gate on session one. Swept the Americans in the foursomes to open the Ryder Cup with a 4-0 lead. The Americans were expected to respond in the afternoon, but the Europeans clawed three matches back to all square and clinched the other point in Friday's afternoon fourballs session. On Saturday, the largest winning margin in a Ryder Cup match was recorded, 9&7. Sunday was a fantastic Ryder Cup day, just as everyone had hoped. The Europeans started strong, but the momentum shifted, and the Ryder Cup was left to be decided in the final three matches. There was an instance where the Americans appeared to have the upper hand, but Fleetwood, Lowry, and McIntyre fought valiantly to maintain the blue on the board and bring the Cup back to Europe. The final score was Europe's 16 ½, to USA's 11 ½.
The many risk-reward holes added to the drama at Marco Simone. The golf course looked magnificent and truly is a great match play site. As usual, the crowds were incredible. Another advantage is the amphitheater-style design, which produced fantastic environments around the tees and greens.
Despite the commercials and several shots not being shown, this was a terrific Ryder Cup to watch. Europe got their redemption and already had their sights set on the away Ryder Cup in 2025 at Bethpage Black in New York.
Check out Tee Times Golf Agency in order to play on the best golf courses in Portugal with outstanding green fees and you'll find the best deals for your next golf holidays.
You can also read other posts about Golf in Portugal:
International Pairs Golf Final returns to Portugal
Marco Penge wins Open de Portugal 2023
Open de Portugal 2023 guide