Lo Romero, "La isla del Golf", with excellence as a sign of identity in each of its corners
Lo Romero Golf is not just another course on the Costa Blanca, because if we had to define it with just one word, it would be: EXCELLENCE with capital letters. An EXCELLENCE of which very few courses, not only on the Costa Blanca, but in Spain, can boast.

But obviously, the jewel in the crown are its 18 holes in a course that has been looked after to the maximum. Starting with its tees and finishing with its greens, passing through the fairways, perfect agronomic conditions and presentation of the various playing areas, signposting, rough and bunkers, the latter perfectly prepared and raked at the start of each day, with USGA sand in all of them in a uniform way, and the detail of the club's signature with the logo in the sand. To all this must be added the sensation of entering a silent, aromatic and beautiful space isolated from the rest of the world.

A sensation that begins on the 1st tee of this course, set in a natural basin, which we can enjoy throughout its almost six kilometres from the yellow tees with the sole company of the murmur produced by the branches of the Mediterranean pines as they shake and the gnawing of the squirrels installed on them, a very attractive course with a large wooded area of Aleppo pines that houses an ecosystem of native fauna and flora that has an impact on the client's experience. With a perfect location close to the Mediterranean Sea and with spectacular views, it also has an average annual temperature of 18°C and 300 days of sunshine a year.

Sustainability and care for the environment are the basis of action on which all projects are developed, this course is being audited annually by AENOR in the Environmental certification along with Quality achieved in 2008 and also in January this year was awarded the Carbon Footprint for golf courses.

The excellent facilities of the Driving Range with a phenomenal location that does not interfere with the course, and being able to enjoy the privilege of being able to practice on three platforms of natural grass.

As well as the impeccability of their buggies with which they remain at the forefront of technology. These state-of-the-art burgundy vehicles, in keeping with the corporate image of the course, include GPS Tablet, premium wraparound seats, LED headlights, fridge and seats with the club's logo embroidered on them, presented with a course card, 6 wooden tees and two Tetra Brik water bottles.

These are powerful reasons why Lo Romero Golf can be considered the perfect island for any golfer for a golf holiday or golf break.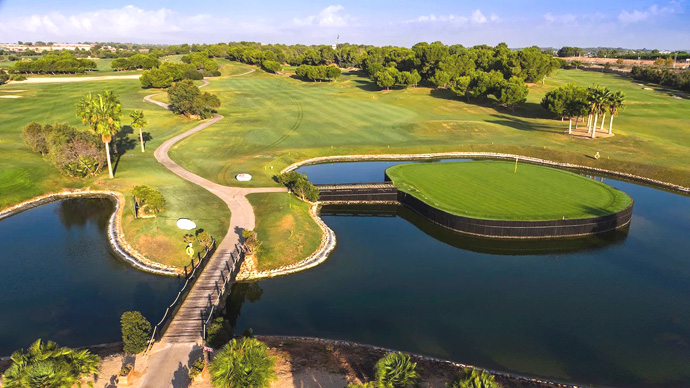 (

read more

close

)