Search Golf Courses
Rio Real news - March 2017
On Sunday March the 26th the clocks change one hour ahead, but our Twilight schedule does not change and you can reserve this special rate starting at 14:30 and take the advantage of 1 more hour of light.

We remind you that until April the 30th, you can book on-line the EARLY BOOKING offer for confirmed reservations between May the 29th and September the 30th.

And also we are glad to inform you that the Online Rates for 2018 are already available so you can make reservations for your most exclusive customers.
The most outstanding golf holes in Marbella - 24 March 2017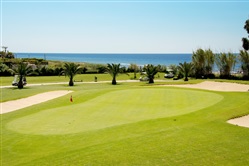 Marbella is the operational hub of the 'Costa del Sol', an asylum for golf players , attracted by its warm climate, the quality and nature of its Hotels, the typical spainish cuisine and the native surroundings that spread out towards the mountains and the ocean. Marbella is a perfect must for enthusiastic golfers, presenting 16 golf courses. Below we take a look to the most outstanding golf holes from five renowned golf courses, in Marbella universally famous fulfilling the requirements and requests of any golf player.