Search Golf Packages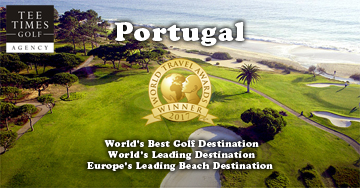 Algarve and its golf courses are considered repeatedly by magazines devoted to the sport and by international associations of specialist tour operators the best golfing destination in the world. Golfing in Portugal it´s one of the best options for your golfing breaks abroad. Vilamoura and Oceanico, Quinta do Lago, Carvoeiro Pestana and Vale do Lobo are some of the most popular golfing destinations.

Algarve golf courses are located in protected areas with spectacular views, carved in the nature as if they were always there, golf in Algarve is recognised for quality of their facilities internationally, designed by many prestigious legendary champions such as Sir Henry Cotton, Rocky Roquemore, Arnold Palmer and Ronald Fream. Driving Range, Golf Academy and Restaurants are just some of the facilities provided by many of the thirty four golf courses in Algarve region, four of those golf courses with twenty seven holes. Algarve offers luxury golf holidays or cheap golf holidays with many of Portugal best resorts.

For Holidays in the south of Portugal Algarve there are more than two hundred hotels with easy access from the Faro International Airport, which is in the middle of the region, that offers so many direct air links to plenty destinations in the world. Golf players can enjoy their Algarve Holidays almost 365 days of sun, they can play almost throughout all year with an ideal climate in this paradise for golfers region.

Algarve golf history started in 1966 when Penina Championship course open, designed by Sir Henry Cotton. Many golf courses followed to increase the offer. 1969 was the year the portuguese Old Course born, created by Frank Pennick. In 1988 San Lorenzo, by Joe Lee, opens to begin a second wave of course building. Oceanico Victoria opens in 2004 designed by none other than Arnold Palmer. Onyria Palmares built in 1970's designed by Frank Pennink got revised by Robert Trent in 2011 becoming a brand new course. In 2012, Espiche near Lagos was the last golf course built in Algarve . The new Quinta do Lago North by Beau Welling & Paul McGinley opens. 50th years of Algarve golf history completed in 2016.

European Tour CEO, Keith Pelley said: 'The Algarve continues to be a terrific backdrop for tournament golf, having hosted 35 tournaments on The European Tour and Senior Tour, as well as the Senior Tour Qualifying School since 2001.'

'We are proud to have been able to showcase this wonderful region to a worldwide audience and I'm sure it will be another golden year for golf on the Algarve with the 50th anniversary celebrations planned, including the 10th edition of the Portugal Masters at Oceânico Victoria Golf Course in Vilamoura.'

If you are considering some golf holidays in Portugal , the Algarve region can be divided for three main golf areas such as West, Central and East. In the West Algarve , you will encounter three towns with golf courses to offer, Portimão, Silves and Lagos. The Central area that goes from Albufeira to Faro, which includes the so much called Golden Triangule, Vilamoura, Quinta do Lago and Vale do Lobo, offer the majority and most known golf courses of Algarve . Tavira town will offer most of the East area golf courses, as the well known Monte Rei, 10th in the European top 100 golf courses. Booking golf in Portugal ? Tee times can provide golf holiday packages for your best Algarve golf vacation, one of the best destinations for golfing in Europe.
World Class Golf Holiday Packages and Deals at the world´s Best Golf Destination.

Enjoy our assortment of great golf holiday package deals.

Tee Times Golf Agency have the best golf packages with the right golf courses in Portugal and Spain where you can play throughout the year, no matter what kind of challenge you're looking for, and, benefiting from some great golf deals.

The golf packages start from the basic 2 or 3 rounds at the same golf course, to be played within a week, or the most sophisticated tailormade at Vilamoura Oceânico, where your discount starts on 15% from 3th round and will increase at each extra round to a maximum of 20% , playing the Old course, Vitoria and the others courses in Vilamoura.

Quinta do Lago, Vale do Lobo, Monte Rei, along with Valderrama, Sotogrande, San Roque are exclusive and luxury golf resorts that offer their guests some golf holiday packages for their enjoyment and convenience.

The Unlimited golf concept, also allows the players to play as much golf as they want, inclusive of 36 holes in the same day and is perfect for the keen golfers on a winter break.

Tee Times Golf Agency have booked golf rounds and golf packages for international players since 1993, so experience, reputation and deep knowledge of the golf industry, allows us to offer in Portugal and Spain some exclusive golf packages to our guests, and offer the best prices on the other most commons.

With almost 365 days of sunshine, Portugal (Algarve , Lisbon, OPorto, Madeira and Azores) and Spain (Costa del Sol, Costa de la Luz, Costa Blanca, Costa Dorada and Costa Brava) within a few hours flight from Europe main cities offers a great destination for golfers worldwide.

If you need accommodation, our team can handle booking those reservations for you as well.

Take full advantage of our golf packages deals and swing the day away on one of Portugal or Spain premium golf courses designed by prestigious legendary champions such as Sir Henry Cotton, Rocky Roquemore, Arnold Palmer and Ronald Fream.