Search Golf Packages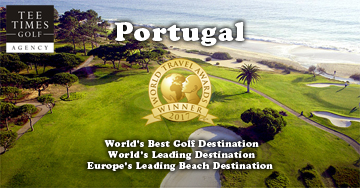 Alto Golf Course
Alto Golf Course located in Alvor, is a typical city resort golf course, with narrow fairways and small elevated greens, reflecting Sir Henry's Cotton taste for challenges to golfers of all levels. Under Pestana group management since 2011, Alto golf course has received, significant improvements in is general appearance with main incidence at the fairways and the greens. On the back nine you find what is considered the longest Par 5 in Europe, 591 mt from the men's tees, making Alto golf course relatively long, for a par70, 5.532 mt men's and 5.003 m from ladies tees.
Vale da Pinta Golf Course
Vale da Pinta golf course is a Par 71 located in Lagoa, Algarve , just a short drive from the seaside village of Carvoeiro. The golf course opened in 1992 and has since hosted the European Tour Qualifying Final for 8 consecutive years and that fact alone should be a clear indicator of Vale da Pinta golf course's quality, among Algarve golf courses.At 6.127mt this is not a very long golf course but it is quite undutaled, with Bermuda fairways, Pen Cross Bent greens, strategically placed bunkers and lakes amidst the typical Algarve local flora, which includes an olive tree that is over 1.200 years old!But let's get more specific:Vale da Pinta golf course starts off with a short hole with an elevated green and a bunker on your left, a trap for the most distracted. The 2nd hole is the first of many doglegs you will encounter at Vale da Pinta golf course and this one, aside from not allowing you to see the green, it is sheltered by yet another bunker. Moving on to the 4th hole, you have arrived at one of the world's great par-5 holes. No matter how you play it, make sure it's a straight measured shot. As you get to the 5th just select your club, aim with confidence and add a prayer to it. Not for the faint-hearted, this one. For the 9th hole you'll need the wind to be behind you for the carry over the trees. Beware of that second shot as it is a deceptive one to a long green. The 15th hole is a great downhill par-3 and you'll need a great strike to prevent the ball from landing in the bunker. Bunkers and trees to the right of the fairway will be a challenge you'll have to face on the 16th and and an uphill short-iron is required. The 18th is a true par-5 where three long and straight shots will dictate a safe arrival for you. Overall Vale da Pinta golf course , presents a great challenging to all levels of players and an experience you'll want to repeat!The area around Vale da Pinta resort is beautiful and filled with a wide choice of things to do and places to go. Just 10 minutes towards the coast you have the beautiful Algarve fishing village of Carvoeiro, perfect for a post-golf seafood feast! Just 5 minutes from the golf course you will find Slide & Splash water park for a refreshing afternoon. The town of Portimão is also in close proximity and ideal for a bit of shopping. No matter your mood, you will find something to suit it!
Gramacho Golf Course
Gramacho golf is a par 72 course, located near Carvoeiro, western Algarve . Ronald Fream designed a course with 18 greens and tee boxes and 9 fairways. Later, Nick Price added the other 9 fairways and refurbished the existing so one interesting feature on this course is that many of its holes have 2 greens. Gramacho is a short course, with undulating greens and fairways. In fact, it is quite a hilly course, often with steep terrain, making it a walking challenge for the less fit. The front nine starts with a picturesque 1st hole where you'll need to lay up short of the central rock and tree outcrop, to leave a flighted short iron second. An uphill, downhill exercise takes you to the 6th hole, a par 5 with a tree in the centre of the fairway. Hole 10 is the course's most beautiful hole where uneven terrain and a lake condition your shots. Hole 12 is a true par 5 with a dogleg right that requires two good shots so that your third one has some visibility onto the green. The 16th hole is the course's stroke 1, a tricky par 4, narrow, with many hazards for you to contend with. Hole 18 is a par 5 with a hard tee shot onto an uphill fairway surrounded by obstacles such as trees, rocks and 3 deep bunkers protecting the green. Gramacho is a nice course, with beautiful algarvean countryside but just a bit demanding on the legwork. Nevertheless, it has hosted the Portuguese Ladies Open on several occasions.Carvoeiro area is known for its breathtaking beaches and wonderful seafood so your best bet for a post-golf drink and/or meal is to head for the coast where the choice of restaurants and beach bars is wide and will not disappoint.
Silves Golf Course
Silves golf course opened in 2006 and is located in the countryside inland from the coastal resort of Armaçao de Pera.A medium flat to hilly course with very good holes. Some holes are very challenging and you will need to be spot on. You will find it challenging, tough and wide greens where you will need to give good shots. Hole 16 is a tricky Par 4 which is a dog leg left. Silves would suit players of all standards and is a fairly friendly course for ladies enabling them to enjoy a shorter distance with 528m between the red and yellow teesA nice golf course with lovely views to the country with palm trees and olive groves. The nearby cork and citrus farms give a truly authentic Portuguese feel while playing.